Network Performance/Visibility
TOTAL VIEW ONE reduces costly application and network slowdowns and downtime by providing the tools you need to stop problems before they start.
Directional Latency - determine where performance issues are - Server or Network.
Micro-second Latency - performance reporting for every transaction (millionth of a second).
Performance Alerting - identify bottlenecks, server issues, application and network slowdowns.
Real-Time Dashboard - instantly track activities and events on the network.
Reports - provide historical reports on performance, users, applications & transactions.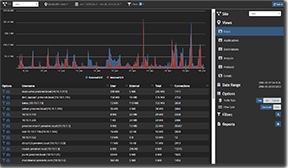 Network Compliance
TOTAL VIEW ONE's engine digitally signs and encrypts data logs for a legal and auditable foundation for historical management.
Network Policy Enforcement - a record of all transactions provides for managerial accountability.
Regulatory Auditability - independently sourced logs for PCI, SOX, HIPPA, SAS70 ...
Compliance Auditability - tracks all machines that receive externally established connections.

Network Security
TOTAL VIEW ONE uses Connection Tracking to identify security threats that would otherwise go undetected.
Identify Unreplied/Denied Connections - viruses, anomalous traffic, misconfigured systems.
Identify Collapsed Connections - application reboots, collapsed networks, session issues.
Behavioral Analysis and Trending - track abnormal usage, new users & applications.
Auditability - provide complete and independent records of all activity on the network.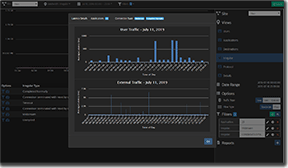 Healthcare: Radiology Operations Through Analytics

Consolidate Your Data Across Systems With One Vendor Agnostic, Interoperable Platform

PresiNET's DImax seamlessly integrates into all radiology Informatics systems including RIS/PACS, EHR, voice dictation and more, consolidating data silos and message protocols into one single structured AI ready solution for Business Intelligence and Machine Learning

The 80/20 Rule For Data Analysis

Today, it is often observed that 80% of the time is spent locating, extracting, and building datasets necessary to measure routine operational and performance metrics. This leaves only 20% of time left in order to make sense of this data through slicing and dicing it into analyzable reports. The difficulty of this task is compounded by the fact that frequently key metrics are either not represented or are inaccurate.

PresiNET flips the issue thanks to real-time operational performance and workflow analytics. Departments can automate their data collection through scheduled reporting and place their focus back on making impactful decisions.

Unrivaled Workflow Clarity

PresiNET works to uncover hidden data siloes and harmonizes imaging data across IT systems to ensure accurate, consistent data while simultaneously providing live workflow analysis, including T-A-Ts and Wait-Times based on WTIS reporting requirements.
Purpose-Built Solutions for Healthcare, Gateway Security and Network Analytics
PresiNET delivers innovative solutions by integrating network and application data with business process analysis, leading to improved efficiency, operational performance and compliance.
Real-Time
Network Monitor
Install a PresiNET Appliance on your switch/router for real-time Line monitoring of network data.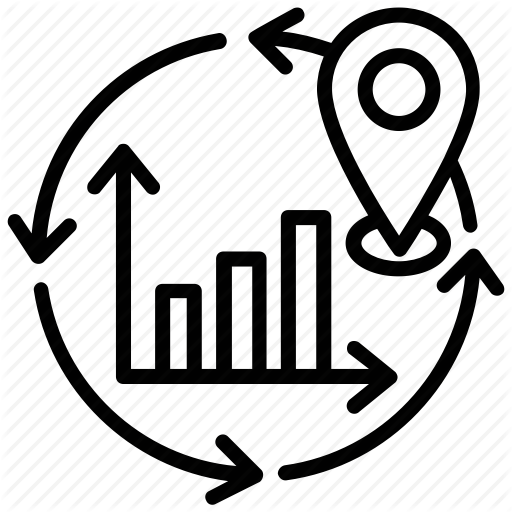 Network
Traffic Analytics
From the data collected, PresiNET provides the intelligence you need to easily view and understand the tra­ffic running on your network, enabling effective management, security, performance and regulatory compliance.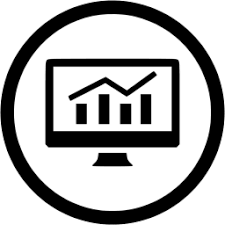 Performance and
Usage Analysis
PresiNET pinpoints the root cause of application and network slowdowns so they can be solved quickly, allowing everyone to get back to business. Pinpoint data breaches, optimize performance, verify compliance, and generate targeted reporting.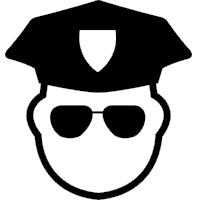 Security
Analysis
PresiNET provides a view of which external and internal users are accessing systems, when they are accessing those resources and if they are transferring data. Set thresholds for users and applications.
Healthcare
Protocol Analytics
PresiNET analysis both DICOM and HL7 protocols, providing an analytics platform designed to improve hospital reporting and workflow.